Congratulations to The Family Clinic on their recent award from CMS!
Category: News
Posted On:
Written By:

Opelousas General
Opelousas General Health System would like to recognize and congratulate The Family Clinic on their recent award from CMS, The Centers for Medicare and Medicaid Services. During the 2019 Comprehensive Primary Care Plus (CPC+) National Meeting on May 9 in Baltimore, Maryland, The Family Clinic received the 2019 CPC+ Practice of the Year Award. CPC+ is a national advanced primary care medical home model that aims to strengthen primary care through regional-based multi-payer payment reform and care delivery transformation. The Family Clinic is the first recipient of this award, and was chosen out of nearly 3,000 primary care practices nationwide that participate in CPC+. They received this award from a peer nomination.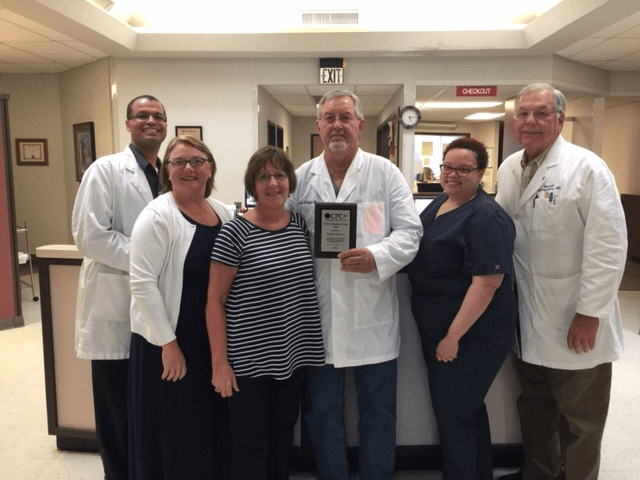 CMS defines the CPC+ initiative as a way to improve the delivery of healthcare, affecting better health for populations and thereby lowering overall healthcare costs in the United States. Working with eClinicalWorks®, The Family Clinic customized its Electronic Health Record (EHR) to drive decisions focusing on key functions for practice transformation. In its feature article on The Family Clinic, eClinicalWorks® explained that The Family Clinic was able to maximize the integrated solutions within the EHR to empower the providers to achieve better risk stratifications, close gaps in care, provide timely and comprehensive patient care and ultimately aim to improve clinical outcomes.
In an interview with eClinicalWorks®, Dr. Laura Braham, owner and Clinical Lead of CPC+ at The Family Clinic, provided the following statement: "The Family Clinic's mission is to provide comprehensive primary care to adults, the elderly and children through the Patient Centered Medical Home approach in order to broaden access to primary care and enhance care coordination. With 2,912 primary care practices currently participating in CPC+, we are honored to have been selected as the 2019 Practice of the Year. With eClinicalWorks®, we have the tools to successfully navigate the five functions in the CPC+ programs to build capabilities and care processes to deliver better care. This award demonstrates our dedication to achieve excellence in promoting high quality, patient-centered primary care."
The Family Clinic was also recognized by Blue Cross Blue Shield (BCBS) of Louisiana in their monthly Quality Blue Primary Care newsletter, commending them for going above and beyond in engaging with their CPC+ peer practices around the country to share what they have learned from being in the program and to offer best practices. BCBS is another one of the CPC+ payers for the program in the state of Louisiana.
For a small, independent, primary care practice in Opelousas, Louisiana to be recognized nationally by CMS in this way is quite exceptional. The Family Clinic has been a fixture in Opelousas and St. Landry Parish for over 55 years and its providers and staff look forward to continuing to evolve their practice of primary care in accord with the future of value-based payment and enhanced care models. Both provider and patient satisfaction has been positively affected and the future is bright for The Family Clinic.
Pictured from left: Dr. Kevin Guillory, Dr. Laura Braham, Mary Ann Martin, Office Manager, Dr. Michael Basile, Dr. LaTonya Kelly and Dr. Michael Montgomery.