OGHS Foundation 2019 Scholarship Recipients Announced
Category: News
Posted On:
Written By:

Opelousas General
The OGHS Foundation announced on May 14, 2019 during a reception the funding of 10 scholarships to St. Landry Parish students pursuing degrees in healthcare. The recipients of these scholarships are as follows:
Kelsey Soileau, MS-SLP, ULL
Amy Rosette, RN-ASN, LSU-E
Lyndsy Hester, RN-BSN, ULL
Ashley Warner, RN-BSN, LSU-E
Tessie Rideaux, RN-BSN, SLCC
Perry Kennerson, Jr., RN-BSN, ULL
Kristie Manuel, RN-ASN, LSU-A
Chassidy Watson, RN-MSN, Southern
Carson Doyle, RN-ASN, LSU_E
Pierre Dupre, RN-BSN, Southern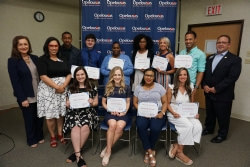 These 10 students, through their hard work and dedication in pursuing their higher education goals, will receive a cumulative amount of nearly $35,000 in scholarships.
Pictured seated from left: Kelsey Soileau, Lyndsy Hester, Chassidy Watson and Tessie Rideaux. Pictured standing from left: Gina Tuttle, Chairman of the Board of Trustees, Tracey Antee, Foundation Director, Pierre Dupre, Carson Doyle, Amy rosette, Ashley Warner, Kristie Manuel, Perry Kennerson and Ken Cochran, President & CEO.