Congratulations to Dr. Lori Gautreaux for Receiving the Blue Cross Blue Shield of Louisiana Momentum Award!
Category: News
Posted On:
Written By:

Opelousas General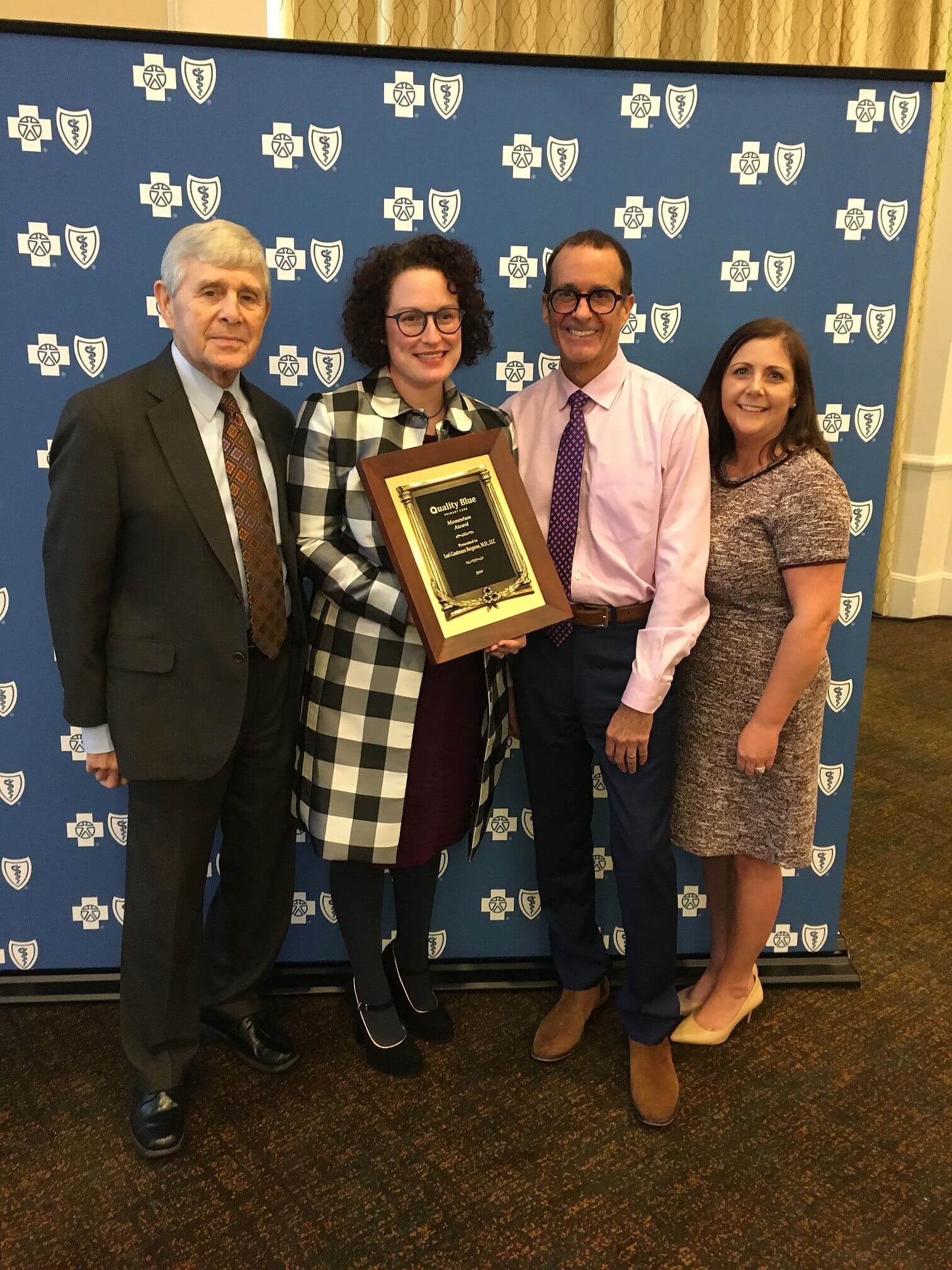 We would like to congratulate Dr. Lori Gautreaux, Internal Medicine, for receiving the "Small Practice Momentum Award " for Blue Cross and Blue Shield of Louisiana's Quality Blue Program. This award recognizes clinics that made the greatest overall improvements on quality care measures. The award was presented to her at the recent collaborative meeting held in Baton Rouge in November. The following press release provides more information:
FOR IMMEDIATE RELEASE For more information, contact: Nov. 22, 2019 Cindy Wakefield (225) 295-2405 Strategic.Communications@bcbsla.com.
Quality Blue Drives Continued Health Improvement for Chronic Conditions
BATON ROUGE – For the sixth straight year, primary care providers in Blue Cross and Blue Shield of Louisiana's Quality Blue program got better health outcomes for their patients with diabetes, heart disease, high blood pressure and kidney disease. "We began Quality Blue in 2013 to closely partner with primary care providers around the state to transform the way care is delivered and get better health results for our shared customers – our members and the providers' patients," said Vindell Washington, M.D., Blue Cross chief medical officer. "The results show Quality Blue is making a difference. Our members who are seeing providers in this program have higher rates of being in healthy ranges for their blood pressure and blood sugar," Washington said. "And, in the past year, we saw even more improvement with Quality Blue providers getting their patients at goal for the chronic conditions we're targeting in this program. " In Quality Blue, Blue Cross establishes clinical quality measures for each condition to track patients' health improvements over time. For example, providers are tracked to see how many of their patients have blood pressure or blood sugar readings in a healthy range, are taking medication as directed, or are not smoking.
Quality Blue program data through September 2019 show that since the first full year of the program (2013-2014), there has been:
x A 42% improvement in diabetes care
x An 80% improvement in hypertension (high blood pressure) care x
A 50% improvement in vascular disease care x
An 86% improvement in chronic kidney disease care
In addition to overall improvements, Blue Cross recognized clinics with the highest achievement in the program for 2019.
Bryan A. LeBean Sr., M.D., APMC (Lafayette) earned Highest Overall Performance. Blue Cross presents this award each year to the Quality Blue clinic with the highest average score on the program's clinical quality and efficiency measures.
Efficiency measures track how well a practice is keeping costs in line by prescribing generic drugs, helping patients avoid ER visits for non-emergency situations, and using imaging tests to treat lower back pain only when medically necessary.
Blue Cross also recognized four clinics that earned the highest scores on Quality Blue's clinical quality measures for treating patients with the targeted chronic conditions:
Highest Achievement in Diabetes Care: East Jefferson Internal Medicine – Robert Pollock, M.D. (Metairie)
Highest Achievement in Hypertension Care: East Jefferson Internal Medicine – Lenito Sinay, M.D. (Metairie)
Highest Achievement in Vascular Care: LCMC Touro: Louapre, Kokemor, Sarrat & Braedt (New Orleans)
Highest Achievement in Kidney Care: Darrin D. Menard, M.D. (Lafayette
Beginning this program year, Blue Cross added a Momentum Award, which recognizes clinics that made the greatest overall improvements on the quality care measures. This award was given at three levels, depending on how many patients are treated at each practice.
Small Practice Momentum Award: Lori Gautreaux Bergeron, LLC (Opelousas)
Mid-Size Practice Momentum Award: Tulane University Medical Group (New Orleans)
Large Practice Momentum Award: The Baton Rouge Clinic (Baton Rouge)
For more information about Quality Blue and to see a list of all Top Performer providers, visit www.bcbsla.com/QBPC. 
About Blue Cross and Blue Shield of Louisiana
Blue Cross and Blue Shield of Louisiana is committed to our mission to improve the health and lives of Louisianians. Founded in New Orleans in 1934, we are a tax-paying nonprofit health insurer with offices in every major region to serve our customers. We were recognized in 2019 as an honoree of The Civic 50, named by Points of Light as one of the 50 most community-minded companies in United States.
Blue Cross and Blue Shield of Louisiana is an independent licensee of the Blue Cross and Blue Shield Association. We are a private mutual company, owned by our policyholders, with an independent Louisiana Board of Directors and no shareholders. We invite all Louisianians to visit our website at www.bcbsla.comor talk to us on social media.