OGHS Selects New Chief of Staff
Category: News
Posted On:
Written By:

Opelousas General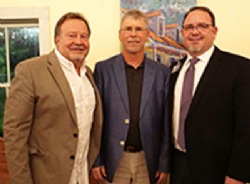 Dr. Kenneth Scott Parks has been selected to serve as our new Chief of Staff for Opelousas General Health System.  Dr. Parks will serve in this capacity for the upcoming two year term. Most recently, Dr. Hunt Deblanc served in this capacity for the last 4 years. 
Dr. Parks specializes in Internal Medicine and currently works as a Hospitalist at Opelousas General.  He has been a member of the active medical staff of Opelousas General Health System for the past 26 years. 
Prior to his appointment as Chief of Staff, Dr. Parks has served on the following hospital committees:
Credentials Committee
Medicine/P&T Committee
Hospital Based Committee
Medical Executive Committee
Dr. Parks received his medical degree from Louisiana State University Medical Center in Shreveport, LA and completed his Internship and Residency from University of Florida in Jacksonville, FL.  He is Board Certified in Internal Medicine. 
Dr. Parks and his wife, Dr. Lori Vidrine-Parks, currently reside in Ville Platte, LA.
Please join us in congratulating Dr. Parks on this new appointment.